The Tupelo Furniture Market announced its show dates for 2018. More

Tupelo opens with light traffic, subdued mood

The Tupelo Furniture Market opened with light traffic and subdued moods here Thursday morning. While some attributed the slow traffic to other industry markets and events taking place near or at the same time as the Tupelo Market, others cited that it is an indication that business is more challenging for smaller, independent retailers who typically attend the regional market. More

Tupelo in June gets sunny forecast

There's optimism among exhibitors and attendees as the Tupelo Furniture Market prepares for its summer show with new dates June 8-11 and strong registration estimates reported by market officials. More

Kevin Seddon, who served as president of the Tupelo Furniture Market for the past five years, has departed the market. His last day in the post was March 31. More

TBG buying group elects officers

TBG—The Buying Giant re-elected Ken Blackmon, owner of El Dorado, Ark.-based Blackmon Furniture, as president for 2017. More

Tupelo Market sees upbeat opening day

The Tupelo Furniture Market's official open today has been upbeat with many exhibitors reported good traffic and business early. More

Tupelo Market touts bedding for January event

Bedding is on the rise at the Tupelo Furniture Market here, the event's organizers say. Retailers will find plenty of bedding lines to shop at the next edition of the market, set for Jan. 5-8. More

Tupelo Market switches to January, June dates

Tupelo Market has announced date changes. The January 2017 Market will be held January 5-8 and the summer Market will be held June 8-11. The traditional Thursday through Sunday schedule will remain unchanged. More

Tupelo market expects bigger event for August

The Tupelo Furniture Market taking place Aug. 18-21 will draw a larger and more diversified group of vendors and buyers, according to market officials. More

Tupelo show turns spotlight on mattresses

The Tupelo Furniture Market in August is when mattress manufacturers launch new product, with more than 40 bedding companies exhibiting. More
Next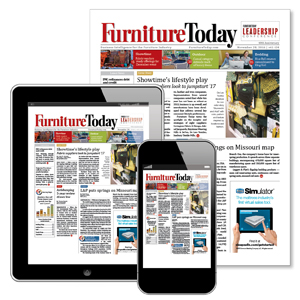 See the digital edition of Furniture/Today, which allows you to flip through the pages, click on any underlined area to visit a website or send an e-mail, search to find content in the magazine, or share pages with your friends. See the latest issue!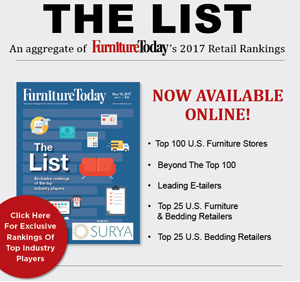 Get exclusive rankings of Furniture Today's top industry players including Top 100 Furniture Stores, Top 25 Bedding Retailers and leading e-Tailers. Get the stats now! Sponsored by Surya.
From A Rep's Perspective

Mike Root

August 7, 2015

Reflections from Las Vegas Summer Market 2015

Every year I am amazed that when it is 110 degrees in the shade, that people will actually go to Las Vegas. But they do! And this year's Vegas market was no exception. Summer market is never as busy as the winter market. The big buyers were all out in force as well as a large showing of western furniture retailers. But smaller dealers and non-regional dealers many times pick this market to skip even though the market owners do a valiant effort in making it as enjoyable as 100 plus degrees can be. It's interesting to overhear ...

From Fabric to Frame

Cindy W. Hodnett

August 22, 2012

Why 'fashion forward' should be part of your bottom-line vocabulary

An interesting discussion occurred at the Tupelo Furniture Market, and it went something like this:"Are you the one who wrote the upholstery article on color in Las Vegas?" said the manufacturer's rep."Yes, I am.""Well, I want you to know that I put this sofa in the main showroom window because of that article, and I just sold an entire container to some folks. I wasn't sure about it, but the ladies certainly love it."The sofa referenced was tangerine-hued and accompanied by a turquoise-tinted chair. When people walked by the grouping, a majority of them ...

Editor's Desk

Ray Allegrezza

August 13, 2012

Happy anniversary to Tupelo Market

In August of 1987, gasoline cost 90 cents a gallon, median household income was just under $30,000, the average price of a new house was $125,000 and Alan Greenspan had just assumed the title of chairman of the Federal Reserve.On the west side of Tupelo, Miss., on a relatively small parcel of land, V.M. Cleveland assumed the title of owner and chairman of what was then an unproven new venue called the Tupelo Furniture Market.Tupelo was and is in the heartland of promotional furniture, and upholstery in particular. Cleveland's vision was as direct and ...
Furniture Today Leadership Conference

November 28, 2017 - November 30, 2017

Four Seasons Resort

Orlando, Florida, US

Showtime Fabric Fair

December 3, 2017 - December 6, 2017

High Point, N.C.

Tupelo Furniture Market

January 4, 2018 - January 7, 2018

TFM Convention

Tupelo, Miss., US
More