These press releases below are submitted by various companies and shown here in their original form, unedited by Furniture/Today. Each company is responsible for the material in its press release.
French Heritage to introduce Facet collection at High Point

Blurb: The Facet collection will debut in the French Heritage showroom during High Point Market, but attendees at winter Las Vegas got a sneak peek at the line via one of the prototypes. Designer Michelle Workman and French Heritage founder Henessy Wayser said their collaboration on Facet began with a pink chest and shared California backgrounds, and each is looking forward to the spring launch in April. For all your furniture industry news, visit: http://www.furnituretoday.com

See Video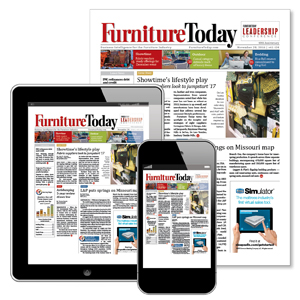 See the digital edition of Furniture/Today, which allows you to flip through the pages, click on any underlined area to visit a website or send an e-mail, search to find content in the magazine, or share pages with your friends. See the latest issue!
Furniture Retail Solutions

Over the past year, our editorial team has been on the road, studying retail – what's working and what challenges even the most established retailers face. Born from these studies is Furniture Retail Solutions – a multi-part series addressing common problems retailers face. Read our first two articles:
* Ergomotion increases retailer's profit potential with Motion Bedroom Furniture
* REM-Fit, by Protect-a-Bed, Outlines the Benefits of a Brand Store
Bedding Today

David Perry

February 21, 2017

Digital, sales experts set for Bedding Conference

Want to improve the digital part of your bedding business? Looking to give your sales force a performance-lifting upgrade? If you want to do those things (and who doesn't?), you should attend Furniture Today's upcoming Bedding Conference, which is set for May 10-12 at the PGA National Resort and Spa in Palm Beach Gardens, Fla. Yes, those dates represent a slight change from the dates we published earlier, which were May 8-10. When we learned our original dates conflicted with a major industry event, we shifted the Bedding Conference to later that week, in the Wednesday-to-Friday format we ...
Fall 2017 Ohio Hardwood Furniture Market

September 20, 2017 - September 21, 2017

Harvest Ridge

Millersburg, Ohio, US

Next Conference

September 25, 2017 - September 27, 2017

Nationals Park

Washington, DC, US

High Point Market

October 14, 2017 - October 18, 2017

Downtown High Point

High Point , North Carolina , US
More