Furniture Retail Solutions
Over the past year, the Furniture Today editorial team has been on the road, studying retail – what's working and what challenges even the most established retailers face. Born from these studies is Furniture Retail Solutions – a multi-part series addressing common problems retailers face. But more importantly, marrying that problem to a solution other retailers, manufacturers and suppliers have successfully implemented in their own businesses.
Reverie provides the tools and education needed to add high end sleep systems

Though retailers face multiple challenges on a daily basis, one of the biggest issues they face is what products and categories to put on the sales floor. Consumers like to have options, and they expect a good selection when they go shopping. Companies that don't deliver on a mix of categories and products often lose customers to the competition. More

Ergomotion increases retailer's profit potential with Motion Bedroom Furniture™

Everyone wants to increase their revenue, but it's not an easy problem to solve. It's hard to forecast revenue, and some companies don't realize that what they're doing isn't working until it's too late. More

REM-Fit, by Protect-a-Bed, Outlines the Benefits of a Brand Store

Family-owned and operated Robert Jefferson Home has been a cornerstone of its local community for over half a century. Like many independent retailers, the store faces a multitude of challenges, from finding the right staff to staying relevant in a retail space disrupted by e-commerce. This series examines some of the issues Robert Jefferson faces as well as the companies that make sure Robert Jefferson stays around for many generations to come. More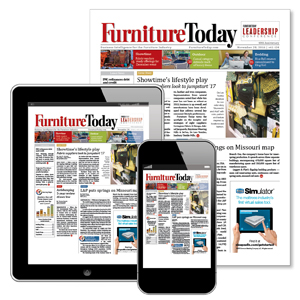 See the digital edition of Furniture/Today, which allows you to flip through the pages, click on any underlined area to visit a website or send an e-mail, search to find content in the magazine, or share pages with your friends. See the latest issue!
Furniture Retail Solutions

Over the past year, our editorial team has been on the road, studying retail – what's working and what challenges even the most established retailers face. Born from these studies is Furniture Retail Solutions – a multi-part series addressing common problems retailers face. Read our first two articles:
* Ergomotion increases retailer's profit potential with Motion Bedroom Furniture
* REM-Fit, by Protect-a-Bed, Outlines the Benefits of a Brand Store
Fall 2017 Ohio Hardwood Furniture Market

September 20, 2017 - September 21, 2017

Harvest Ridge

Millersburg, Ohio, US

Next Conference

September 25, 2017 - September 27, 2017

Nationals Park

Washington, DC, US

High Point Market

October 14, 2017 - October 18, 2017

Downtown High Point

High Point , North Carolina , US
More