Houston Flooding News & Updates
As the industry responds to and deals with the flooding crisis in Houston and the surrounding areas, Furniture Today brings you the latest news and updates from the region.
IMC coordinating product donations for disaster areas

International Market Centers, which operates the Las Vegas and High Point markets, announced it will coordinate product donations and other humanitarian efforts by exhibitors in both cities. More

Ashley to donate more than $2M toward Harvey, Irma relief efforts

Ashley Furniture Inds., a leading manufacturer of home furnishings, is assisting with relief efforts for the catastrophic Hurricane Harvey in Texas and Hurricane Irma in Florida. More

Houston Furniture Bank seeks donations

The Houston Furniture Bank, an independent 501(c)(3) non-profit organization, needs industry donations to continue to serve a gulf coast community devastated by Hurricane Harvey. More

Conn's swings to a 2Q profit, but sales slump

Conn's moved to a profit in its fiscal second quarter, but sales continued to slump due in part to "softness in consumer spending" and tighter lending standards. More

HSM aiding in hurricane relief efforts

HSM Corp. has partnered with other local organizations and businesses to collect donations from their employees and the public in a push to send a convoy of trucks filled with supplies to Texas to aid in hurricane relief. More

Conn's nearly back up to speed after Harvey

Conn's, the furniture, electronics and appliance retailer based in a Houston suburb, said all but two of 23 stores it closed during Hurricane Harvey have reopened for business. More

Olinde's dodges Harvey, but knows what's coming

If Olinde's can tell the furniture industry anything about what to expect once the floodwaters from Harvey recede, it might be this: There's a long road to travel as things dry out, but it does get better. More
Next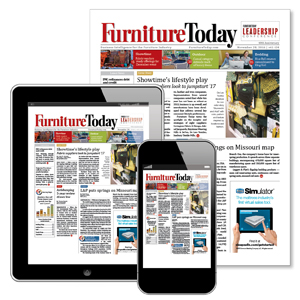 See the digital edition of Furniture/Today, which allows you to flip through the pages, click on any underlined area to visit a website or send an e-mail, search to find content in the magazine, or share pages with your friends. See the latest issue!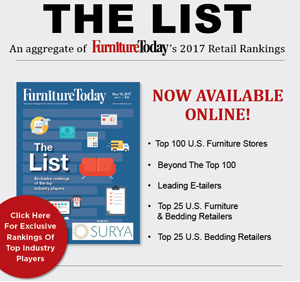 Get exclusive rankings of Furniture Today's top industry players including Top 100 Furniture Stores, Top 25 Bedding Retailers and leading e-Tailers. Get the stats now! Sponsored by Surya.
Clint's Notes

Clint Engel

September 8, 2017

7 takeaways from Conn's 2Q earnings call

Conn's managed to swing to a profit despite a steep drop in fiscal second quarter sales, and its higher-margin furniture business had something to do with that. Here's more on this, the continuing impact of Hurricane Harvey and other takeaways from Conn's earnings call with the investment community Thursday: Conn's loses fewer business days to Harvey but … The furniture, electronics and appliance retailer lost about 100 selling days to Hurricane Harvey — not bad when compared to other storms, such as Hurricanes Ike and Gustav in 2008, which combined for 144 lost days, and Hurricane Rita in ...

Clint's Notes

Clint Engel

September 6, 2017

Harvey victims leave their Gallery shelter, but Mack's still providing

I caught up with Jim "Mack" McIngvale again Wednesday. By now, you (and most everyone in this country) have heard about how he opened his two largest Gallery Furniture stores in Houston to shelter some 800 or so flood victims of Hurricane Harvey. All the families he took in during the storm left Friday, but McIngvale's work continued. On Wednesday afternoon, he was out in front of his North Freeway location, directing about 1,000 people, who were waiting in line for free cleaning supplies, toilet paper, bottled water, soap and shampoo. "We're getting about 2,000 people ...

Furniture Everyday

Bill McLoughlin

August 31, 2017

Harvey affords perfect example of 'doing the right thing'

There are very few times when it is difficult to write about the furniture business, but this is one of those times. This week the people of Houston and the surrounding areas of both Texas and Louisiana have endured a level of upheaval and devastation rarely seen on this scale. Thousands have been uprooted from their homes and sent fleeing for their lives, forced to leave their possessions, their family treasures — so much of what makes up the safe cocoon we all build around ourselves — behind. And before it's over, hundreds of thousands will likely have their lives upended ...
Furniture Today Leadership Conference

November 28, 2017 - November 30, 2017

Four Seasons Resort

Orlando, Florida, US

Showtime Fabric Fair

December 3, 2017 - December 6, 2017

High Point, N.C.

Tupelo Furniture Market

January 4, 2018 - January 7, 2018

TFM Convention

Tupelo, Miss., US
More