Recruitment
Piedmont Furniture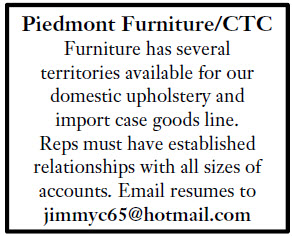 Recruitment
Classic Home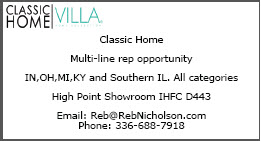 Recruitment
Soicher Marin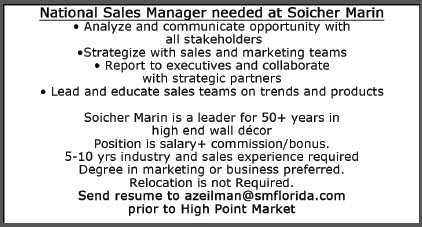 Recruitment
The Federalist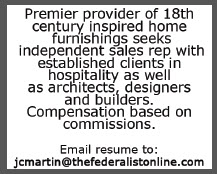 Recruitment
Prime Design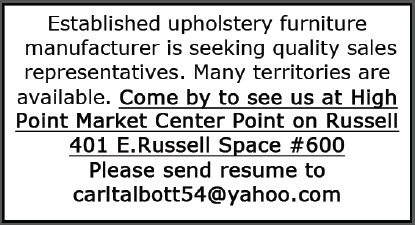 Recruitment
Francesco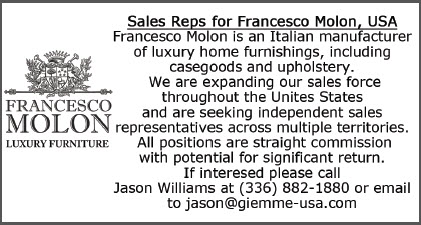 Recruitment
Natuzzi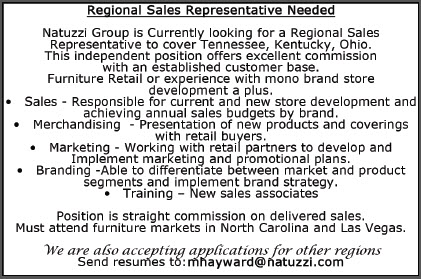 Recruitment
Decor-Rest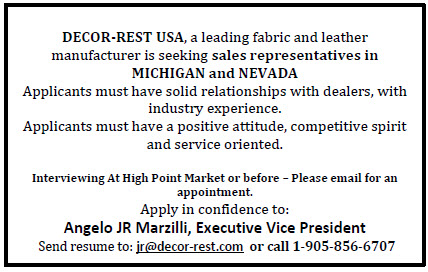 Recruitment
Havertys
Attn: Haverty's Sales Representatives
Want to make some extra money while servicing Havertys stores?
We are a manufacturer of product sold into
Havertys and are looking for quality sales representatives to
service the stores. Earn extra money by servicing stores that you
already go into!
Please Contact Roger at bestzerog@gmail.com.
Candidates will be hired by and trained at High Point market.
Recruitment
Experience Sales Representative Needed
Experience Sales Representative Needed
Well established major US Upholstery Fabric line seek
experienced sales reps. Several territories available.
Existing accounts available to add to any portfolio.
We offer the most competitive compensation packages in the
industry.
email resume to classifieds@pbmbrands.com re:BB024
Recruitment
Buhler Furniture
Buhler Furniture
Buhler continues its growth.
Canadian manufacturer
recognized for their
quality case goods is expanding its
USA sales force.
Outstanding opportunity for proven
sales reps with
established retailer base.
Territories needing immediate
representation: TX/OK, NY, PA/NJ,
AZ/NM, CO/UT.
Send resume to
swilson@buhlerfurniture.com
Buyers Wants
Wahlquist Management
Wahlquist Management

Recruitment
Connector Team Recruiting